If you were a discouraged buyer in 2021, you may be tempted to ask yourself if it's even worth it to try to buy a house in an inflated market. What goes up, must come down, right? Actually, the real question is: Is the market really inflated?
Many experts are leaning towards "no". The meteoric rise in home values over the past 18 months has its roots in scarcity, and that scarcity isn't going away soon. With the pandemic-driven supply chain interruptions, new home construction isn't keeping up with demand, and there aren't enough existing homes in many markets to satisfy the voracious appetites of buyers.
Does that mean we should expect the same for 2022 as we experienced in 2021? Not necessarily. Check out the graph below from Keeping Current Matters: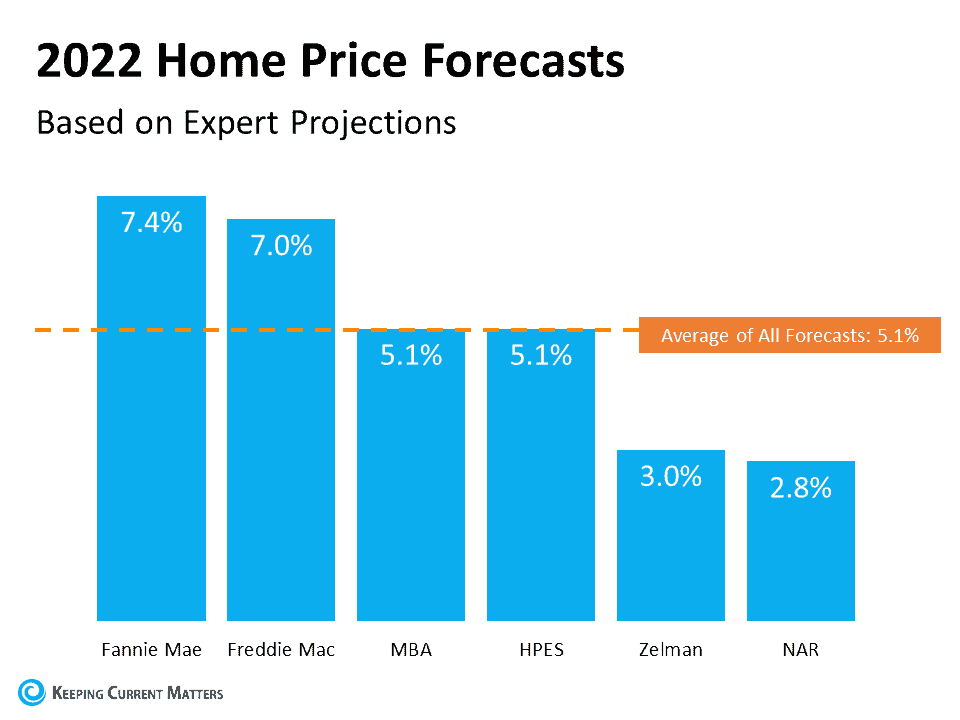 The important information to take away from this image is that literally NO analysts are predicting a decline in home values in 2022. That said, the analysts do agree that the pace at which home values rise will slow to a more moderate pace. According to analyst Danielle Hale from realtor.com, "Price growth is expected to move back toward a normal range, but this is on top of recent high prices, . . . So prices will [still] hit new highs. . . . The pace of price growth is going to slow notably . . . "
What does mean for 2022?
If you are a buyer expecting to be able to go bargain shopping in the New Year, think again. Prices aren't going down. However, if you are a seller expecting to reap double-digit gains in 2022, you'll be disappointed, too. This return to normalcy in the market will be a relief to many buyers, but they will still need to stay on their toes.
Particularly in the Phoenix metro market, which was recently named #19 in the Top Markets for 2022 by Realtor.com, home values are expected to be strong in 2022, and competition for homes will continue to be fierce. Homebuyers will need to be ready to pounce quickly on available homes and should get mortgage pre-approval in advance, to improve their chances of winning the bidding wars. Sellers will still have the upper hand when it comes to contingencies, so having a good Realtor on your side to help you negotiate those decisions will be invaluable.
What is causing the change?
There are a couple of different forces at play in the current market. One is home values and the other is interest rates. Low-interest rates have driven the recent housing boom, as buyers could afford to accommodate rising home prices as long as the rates were low. As rates start to rise, the cost to finance makes higher-priced homes less affordable. Some buyers will quickly get priced out of the market since they don't have as much wiggle room in the budget for bigger monthly payments. When buyers start dropping out of the market, the decreasing competition will stabilize the home prices some, causing them to level off or rise more slowly.
In addition, sellers who were previously waiting on the sidelines are expected to start listing their homes in the Spring 2022 market, trying to cash in on their increased equity before rates start rising. This extra inventory in the market could put a bit of drag on prices and we could see Days On Market creep up from the historically low values.
Obviously, only time will tell if the analysts are right, especially here in the Phoenix metro area, which has experienced historic growth in the last couple of years. There really isn't any relief in sight for first-time home buyers and low-income buyers, but real estate will continue to be a solid investment in 2022.
We are here to help! If you want to find out how much your home is worth in this strong market, email me at reneemerritt71@gmail.com. W would be happy to help you determine if the time is right for you to sell your home or buy a new home.